Premium Pine™: The Yorktown Wooden Swing Set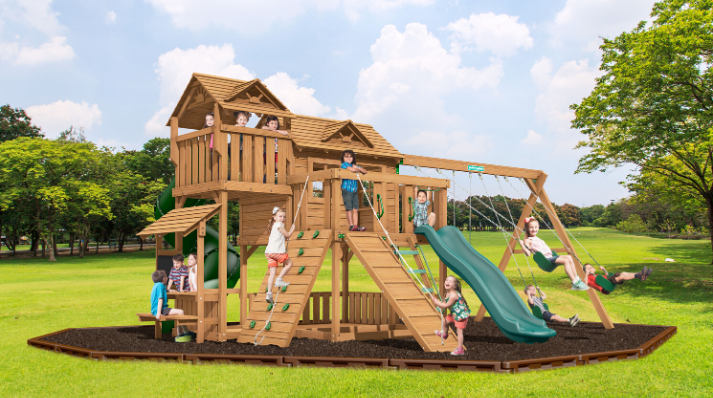 Transform your backyard into an exciting outdoor playground with one of our Residential Wooden Swing Sets! Our Creative Playthings Swing Sets come in various sizes to fit outdoor spaces large and small. Our backyard swing sets are also loaded with Standard Features that will have your kids sliding, climbing, and having fun in no time. You may also add exciting and innovative swing set accessories (slides, swings, ladders, climbing walls, and much more) at any time. Creative Playthings Swing Sets are designed to be safe, secure, and fun!
(Pictured Here: Yorktown Series Option #2 with optional Skybox Playdeck with Wood Roof, Dormer & Gable Fans, Swoosh Slide, Scoop Slide, Ramp, Yorktown Bottom Porch with Play Floor & Play Walls, Yorktown Picnic Table, Access Ladder Rails, Telescope, Periscope, & Binoculars in a Contoured Play Zone with Brown Rubber Mulch.)
Special Pine™ Swing Sets
Creative Playthings Special Pine Wooden Swing Sets are made with our special treated #1 Grade Southern Yellow Pine, and sanded and kiln-dried to ensure consistent high quality in every outdoor swing set. Beautifully finished with a brown stain and backed by Creative Playthings Limited Lifetime Warranty.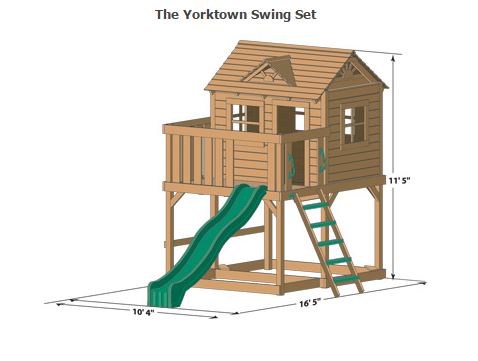 The Yorktown Gym Standard Features
Play Deck: 7′ Wide x 9′ Deep x 5′ High
Wood Roof w/ Dormer & Gable Fans
Clubhouse with Porch
Southern Yellow Pine Construction
Access Ladder with Wide Flat Steps
(2) Deluxe Hand Grips
10′ Wave Slide (Green)
Built-In Sandbox (Requires 900 lb. of Sand)
Lifetime Limited Warranty
The Yorktown Wooden Swing Set is our Premium Pine™ #1 Grade Southern Yellow Pine swing set, featuring a Huge 7′ x 9′ Play Deck.
Ruggedly constructed of our Premium Pine™ #1 Grade Southern Yellow Pine, and finished with a special water repellent brown stain, our Yorktown Wooden Swing Sets are also covered by our industry leading, Creative Playthings Limited Lifetime Warranty.
Your Yorktown Wooden Swing Set comes complete with the Gym, Play Deck, and the Yorktown Swing Set components listed above. (please see the Yorktown Swing Options Tab for more info)
Creative Playthings' goal is to provide you with the best possible swing set product for your home, family, and outdoor backyard fun. Our sales representatives are trained to help you make the best choices in selecting the various options and accessories for your family's outdoor swing set!
Unlike many cheap wooden swing sets on the market (where the components must be in a single, fixed position), the  Yorktown Wooden Swing Set is also available in several different, versatile "configurations".  This ensures easy, safe access for your kids. Plus takes optimal advantage of your backyard space. Another Creative Playthings advantage you won't find in most swing sets!
You may add additional swing set accessories at time of purchase, or, as your children grow, make upgrades to your Yorktown Wooden Swing Set with additional slides, swings, and other  Yorktown Swing Set Accessories to increase your family's outdoor swing set fun!
Take advantage of Creative Playthings more than 50 years of experience in designing children's commercial play equipment and contact us with your project needs.
View full catalog of Premium Pine™ Swing 
---
Packages Available
PLAY SAFE WITH RUBBER PLAYGROUND MULCH
Rubber Mulch Benefits (WALL STREET JOURNAL)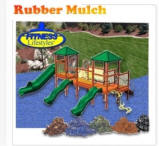 There is much that can be said about the benefits of rubber mulch products from Fitness Lifestyles. Good for the environment, savings of time and money, little maintenance required, unequaled safety, ADA compliant, IPEMA certified, non-toxic, will not rot, fade or compress even after years battling the elements, EPA approved – all very important statements. But when asked why we do what we do, we ask this question, "Does it make sense to cut down a tree to put under a tree?"
Keep on planting and playing, and we will do our part to keep your yard looking great, and your children safe for years to come with our industry best, recycled rubber products. You have our word.
Since we opened our doors, our recycled rubber products have garnered praise from some of the top media in the country, but to us, the most important endorsement is still from you.
"Across the country this spring, homeowners have been passing up the pine nuggets in favor of shredded tires colored everything from coral rose to rustic red to a naturalistic brown."-WALL STREET JOURNAL