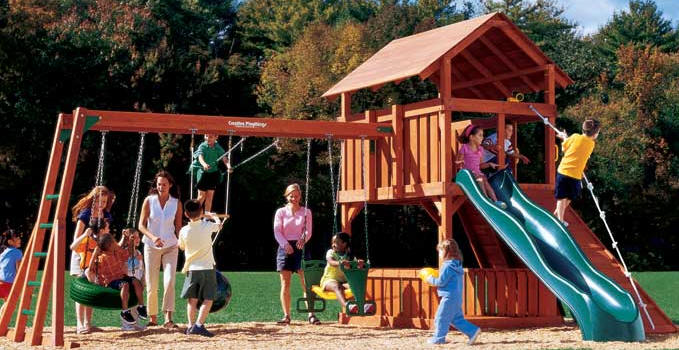 Transform your backyard into an exciting outdoor playground with one of our Residential Wooden Swing Sets! Our Creative Playthings Swing Sets come in various sizes to fit outdoor spaces large and small. Our backyard swing sets are also loaded with Standard Features that will have your kids sliding, climbing, and having fun in no time. You may also add exciting and innovative swing set accessories (slides, swings, ladders, climbing walls, and much more) at any time. Creative Playthings Swing Sets are designed to be safe, secure, and fun!
The Durango Wooden Swing Set is Creative Playthings' largest, top-of-the-line, Naturaline™ 100% cedar and redwood backyard swing set. Featuring a Huge 5′ x 7′ Play Deck, the Durango Swing Set has these outstanding standard features:
The Durango Gym, with All Standard Gym Features
Your choice of Swing Beam or Top Ladder on the Swing Set
Sling Swing, Ring Trapeze, & Back-To-Back Glider
Heavy Duty Ny-Glide Swing Set Hangers
Adjustable Height Swing Accessories
Color Coordinated Swing Set Components
Recessed Hardware With Safety Bolt Covers
Steel Reinforcement Plates, Ground Stakes
Ruggedly constructed of our Naturaline™ 100% cedar and redwood, and finished with a durable redwood stain, the Durango Wooden Swing Sets are also covered by our industry leading, Creative Playthings Limited Lifetime Warranty. Your Durango Wooden Swing Set comes complete with the Gym, Play Deck, and the Durango Swing Set components listed above.
As with nearly all of our Creative Playthings swing sets, you may also (at time of purchase) choose either the Top Ladder (monkey bars) or Swing Beam (single beam) option for your swing set. Plus you may select either 3 or 4 "swing positions" on your set, depending on how many kids will be using it. Each " swing position" on the set is capable of holding one swing, one back-to-back glider, one trapeze, etc.
The Durango Gym Standard Features
5′ x 7′ Play Deck, 5′ High
Wood Roof
Sturdy 4 x 4 Construction
Constructed of 100% Naturaline™ Redwood and Cedar
Adult Accomodating Play Deck
Safety Hand Grips
Angled Access Ladder with Wide Flat Steps
Built-In Sandbox with Seats
10′ Wave Slide, Green or Yellow
Slide Handle
---
Rubber Playground Mulch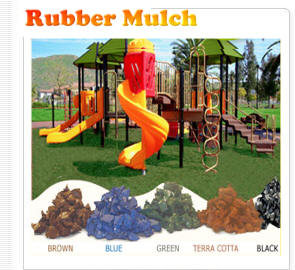 Enjoy a lifetime of safety while protecting the environment!
Rubber Mulch is a unique rubber granule made from 100% recycled scrap tires, created to protect your children and the environment. Proven to be the most effective safety surfacing available, Rubber Mulch cushions the impact of dangerous falls and shields children from playground injuries. Strong, resilient, and almost effortless to maintain, Rubber Mulch Playground surfacing is ready for fun no matter what the weather!